Arthroscopy
Arthroscopy is a kind of surgery used by the best orthopaedicians to check out, analyze, and treat a disease inside a joint. It's a day care procedure.
You can have an arthroscopy done on any joint. Most frequently, it's done on the knee, shoulder, elbow, hip, or wrist.
What are the things to keep in mind before an Arthroscopy?
Before having arthroscopy or some other surgery, it is important to inform your doctor. regarding any prescription drugs that you are taking.
Leave all valuable things at home. Wear clothes that are easy and comfortable.
What is the procedure of Arthroscopy?
Your orthopaedician will perform arthroscopic medical procedures in the operation theatre. After giving you anaesthesia your doctor will embed pencil-thin instruments through a little cut.
The arthroscope device they use has a camera and light at the tip. The image from the camera is projected onto the screen in a magnified manner. This permits them to see inside the joint.
The surgeon will fill the joint with liquid to augment it so it's easier to see.
How is the recovery after Arthroscopy?
At the point when the arthroscopy is finished, you'll be taken to a recovery room where you'll rest for about an hour or more.
You might have some pain in the joint after a medical procedure.
Your doctor might recommend medicine and exercise.
Apply ice for the initial 24 hours to diminish swelling. In the event that you've had an arthroscopy on your knee, lift the leg to diminish the pain.
Take painkillers as recommended.
An Arthroscopic medical procedure typically brings about less joint pain than any other surgery.
Which is the best place to get Arthroscopy?
For any arthroscopic procedure do consult Dr Abhishek Haldar at OrthoVision Clinic, Noida.
Before & After Gallery
Tibia Interlocking
Tibia Plating
Fracture Shoulder
After Shoulder Replacement
Galeazzi Fracture Of Radius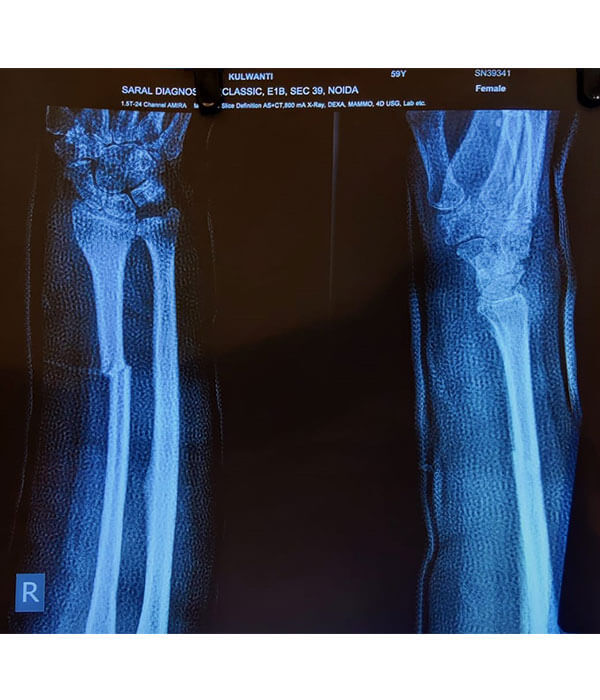 After Closed Reduction
Dislocation Of Distal Interphalangeal Joint
Post Reduction And Stabilisation
Osteoarthritis
Post Knee Replacement
Dr. Abhishek Haldar
MS, FVRS | Trauma, Arthroscopy & Joint Replacement Surgeon
Visiting Consultant -Apollo Hospital, Noida.
Dr. Abhishek Haldar is a consultant Orthopaedic, Trauma, Arthroscopy, Joint Replacement and Vein Surgeon. After  graduating in year 2004 he went on to pursue Master's degree in field of Orthopaedics. During the course of his residency he underwent advanced surgical training in traumatology and operated numerous cases of internal and external fracture fixation. He offers both surgical and non surgical treatment for fractures.
Qualification: Dr. Abhishek Haldar is a Consultant Orthopedic, Trauma and Vein Surgeon. After graduating in year 2004 he went on to pusue his Master's degree in field of Orthopaedics.
Book your appointment at OrthoVision Clinic
Please fill up the form below to schedule an appointment,
our representative will revert back to you shortly to confirm.