Foot and Ankle
Ankle and foot injuries are the kinds of injuries that require serious medical attention. Best orthopaedicians suggest timely management to alleviate pain and prevent deformities.
What are the causes for Ankle and Foot injury?
Symptoms of Foot/Ankle injury
Inability to walk or put weight on the foot or lower leg
Swelling
Clear disfigurement
Foot and Ankle injuries might begin gradually and get worse after some time. If the foot pain increases or doesn't improve with rest, plan a visit to see an orthopaedician.
Best orthopaedicians who are the experts in Ankle and Foot injury treat different kinds of conditions, including:
Arthritis (loss of joint space that can prompt pain and joint stiffness)
Bone spurs (developments that can happen from joint pain and earlier injury)
Bone fractures
Bunions
Diabetes and Foot Pain
Individuals with diabetes are at higher risk of nerve damage that can influence their feet and cause foot pain, called diabetic neuropathy or peripheral neuropathy. This results in reduced sensation. Cuts and wounds may not recover rapidly because diabetes might cause a more vulnerable bloodstream to the feet. Assuming that it is left untreated, these circumstances can prompt diseases or different intricacies over the long haul.
How to treat Ankle and Foot injury?
Best orthopaedics will work to make a treatment plan that might incorporate a mix of the accompanying medicines relying upon the foot or ankle condition.
Supporting or immobilization
The orthopaedicians recommend special boots, and crutches to safeguard the injured foot or ankle.
Physical therapy treatment
Certain joint exercises recommended strengthen muscles and joints in the foot.
Injections
Intraarticular corticosteroid injections are used to ease the pain.
Foot and Ankle surgery
Open or arthroscopic procedure may be required to fix tendons, ligaments, or bones after a physical injury. Recovery might require a little while or months, depending upon the extent of injury.
Which is the best place to get Ankle and Foot surgery?
You can consult us at OrthoVision Clinic for an expert opinion in case of any Ankle/Foot injury.
Before & After Gallery
Tibia Interlocking
Tibia Plating
Fracture Shoulder
After Shoulder Replacement
Galeazzi Fracture Of Radius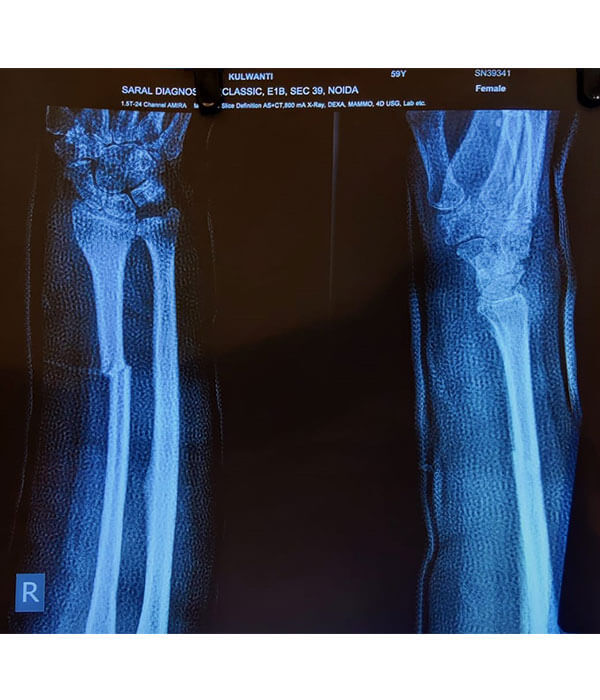 After Closed Reduction
Dislocation Of Distal Interphalangeal Joint
Post Reduction And Stabilisation
Osteoarthritis
Post Knee Replacement
Dr. Abhishek Haldar
MS, FVRS | Trauma, Arthroscopy & Joint Replacement Surgeon
Visiting Consultant -Apollo Hospital, Noida.
Dr. Abhishek Haldar is a consultant Orthopaedic, Trauma, Arthroscopy, Joint Replacement and Vein Surgeon. After  graduating in year 2004 he went on to pursue Master's degree in field of Orthopaedics. During the course of his residency he underwent advanced surgical training in traumatology and operated numerous cases of internal and external fracture fixation. He offers both surgical and non surgical treatment for fractures.
Qualification: Dr. Abhishek Haldar is a Consultant Orthopedic, Trauma and Vein Surgeon. After graduating in year 2004 he went on to pusue his Master's degree in field of Orthopaedics.
Book your appointment at OrthoVision Clinic
Please fill up the form below to schedule an appointment,
our representative will revert back to you shortly to confirm.