Joint fluid replacement
Are you suffering from painful knees?
Based on clinical and radiological findings orthopaedic surgeon can guide you whether joint fluid replacement is going to be tangible option for you or not!      
How does it work?
The knee joint contains synovial fluid which is mainly made up of hyaluronic acid or hyaluronan. This acts as a cushion against the joint cartilage. due to various reasons this fluid starts to deplete causing friction between joint cartilages thus leading to joint erosion and pain as happens in arthritis. Depending upon the extent of damage, orthopaedic surgeon would decide if joint fluid replacement would be suitable(mild-moderate cases)in advanced joint deformities, joint replacement would be needed.
How many injections are required?
There are no fixed number of injections nor fixed interval of injection. Orthopaedic surgeons decide according to the response to the first dose and thereby on subsequent follow ups, the need is assessed.
What are the advantages and how long does the effect last?
Most patients experience great relief from discomfort with joint fluid substitution injections,and improved joint mobility. The effect may last for 6months to 1year or more.
Are there any side effects of this injection?
Injection site pain, swelling or redness. This would settle on its own in a couple of days.
After every injection, the orthopaedic doctors suggest that you avoid unnecessary movement for 48 hours and apply icepack over the joint for 15 to 20 minutes, 3 to 4 times a day.
Joint mobilisation is done immediately after injection.
Which is the best place to get viscosupplementation?
To get joint fluid replacement for yourself or your loved ones visit OrthoVision Clinic in Noida. They have the best orthopaedic specialist who will help in treating joint disorders. Visit  Dr Abhishek Haldar, the best orthopaedic surgeon in Noida to get joint preservation surgery.
Before & After Gallery
Tibia Interlocking
Tibia Plating
Fracture Shoulder
After Shoulder Replacement
Galeazzi Fracture Of Radius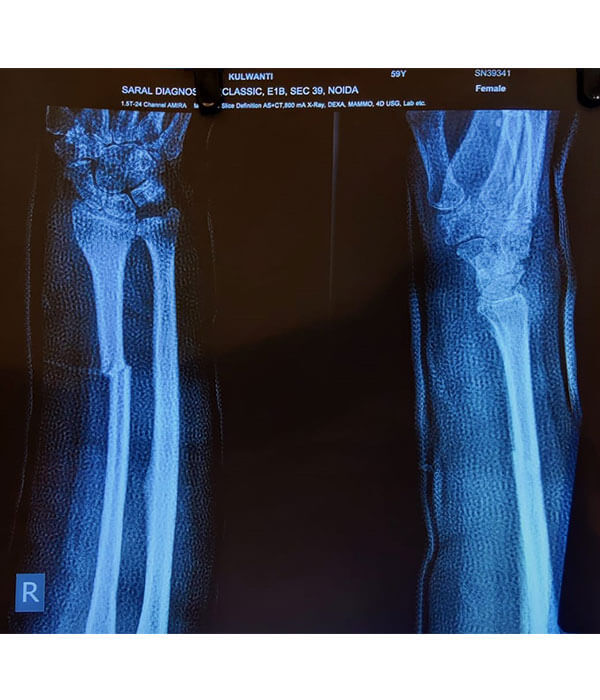 After Closed Reduction
Dislocation Of Distal Interphalangeal Joint
Post Reduction And Stabilisation
Osteoarthritis
Post Knee Replacement
Dr. Abhishek Haldar
MS, FVRS | Trauma, Arthroscopy & Joint Replacement Surgeon
Visiting Consultant -Apollo Hospital, Noida.
Dr. Abhishek Haldar is a consultant Orthopaedic, Trauma, Arthroscopy, Joint Replacement and Vein Surgeon. After  graduating in year 2004 he went on to pursue Master's degree in field of Orthopaedics. During the course of his residency he underwent advanced surgical training in traumatology and operated numerous cases of internal and external fracture fixation. He offers both surgical and non surgical treatment for fractures.
Qualification: Dr. Abhishek Haldar is a Consultant Orthopedic, Trauma and Vein Surgeon. After graduating in year 2004 he went on to pusue his Master's degree in field of Orthopaedics.
Book your appointment at OrthoVision Clinic
Please fill up the form below to schedule an appointment,
our representative will revert back to you shortly to confirm.