Joint Preservation
Joint preservation of the hip and knee is a new method for alleviating joint pains. There are many joint preservation techniques to deal with joint problems like hip dysplasia and early osteoarthritis, without requiring total hip replacement(THR). The right treatment and medical procedure to protect your hip and knee joints depends on various significant elements, including your age, general wellbeing and the extent of joint damage.
How is joint damage assessed?
Your orthopaedic surgeon will performa few clinical tests besides history taking corroborated with a few ancilliary tests like the following:
X-ray
CT scan/ with or without 3D reconstruction
MRI
What are the options for joint preservation?
Analgesics- for mild to modearte pain
Braces/joint distractors- for functional rehabilitation and ambulation
Physiotherapy – for pain alleviation
Which is the best place to get joint preservation?
To get joint preservation for yourself or your loved one visit OrthoVision Clinic. They have the best orthopaedic specialists who will help in treating life-threatening problems with joints. Visit the best orthopaedic doctor to get joint preservation surgery.
Before & After Gallery
Tibia Interlocking
Tibia Plating
Fracture Shoulder
After Shoulder Replacement
Galeazzi Fracture Of Radius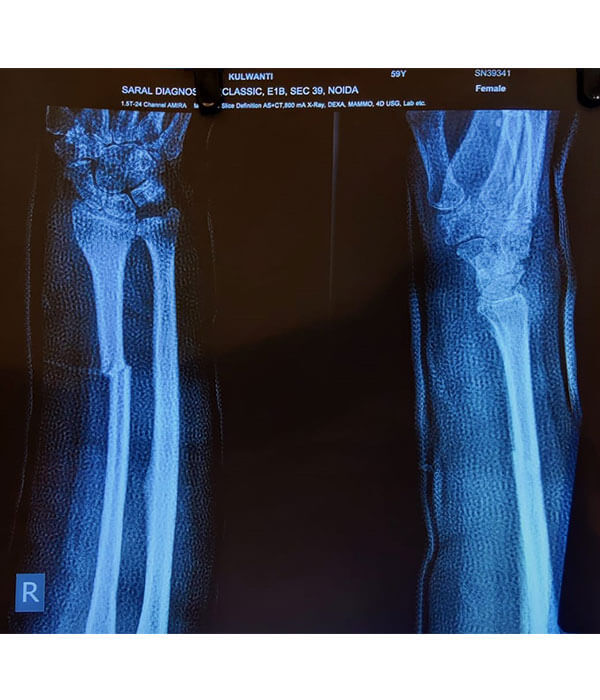 After Closed Reduction
Dislocation Of Distal Interphalangeal Joint
Post Reduction And Stabilisation
Osteoarthritis
Post Knee Replacement
Dr. Abhishek Haldar
MS, FVRS | Trauma, Arthroscopy & Joint Replacement Surgeon
Visiting Consultant -Apollo Hospital, Noida.
Dr. Abhishek Haldar is a consultant Orthopaedic, Trauma, Arthroscopy, Joint Replacement and Vein Surgeon. After  graduating in year 2004 he went on to pursue Master's degree in field of Orthopaedics. During the course of his residency he underwent advanced surgical training in traumatology and operated numerous cases of internal and external fracture fixation. He offers both surgical and non surgical treatment for fractures.
Qualification: Dr. Abhishek Haldar is a Consultant Orthopedic, Trauma and Vein Surgeon. After graduating in year 2004 he went on to pusue his Master's degree in field of Orthopaedics.
Book your appointment at OrthoVision Clinic
Please fill up the form below to schedule an appointment,
our representative will revert back to you shortly to confirm.