Spine Surgeries
Back pain is one of the most well-known reasons why individuals look for clinical help consistently. Severe back pain can prevent your work and disturb on your lifestyle. Disc prolapse in varying degrees, back muscle injuries due to certain postures can cause back pain problems.
How to treat Back pain?
There are many medical procedures that are used by the best orthopaedicians to treat back pain. While orthopaedicians generally try to treat back pain through non-surgical means there are circumstances when surgical intervention becomes necessary .
What are the different kinds of spine surgeries?
Discectomy
Discectomy is an activity used to eliminate herniated discs (otherwise called slipped discs)
Microsurgical Discectomy – A strategy that eliminates part of a herniated disc that is causing pain due to nerve compression..
Anterior Cervical Discectomy and Fusion (ACDF) – A technique that eliminates a herniated disc situated in the neck.
Lumbar Discectomy – A technique that eliminates a herniated or degenerative disc that is situated in the lower part of the spine.
Laminectomy
In a laminectomy, the lamina or the torn side of the spinal canal is eliminated. This system is additionally performed on patients with spinal stenosis. It reduces pain brought about by compression on the nerve roots.
Foraminotomy
The foramina are openings where nerves and veins pass through. The procedure widens the intervertebral foramina thus releasing compression.
Which is the best place to get Spine surgeries?
To get spine surgery for yourself or your loved one visit the clinic of  Dr. Abhishek Haldar. They have the best orthopaedic specialists who will help in treating life-threatening problems related to back and joints. Visit Dr. Abhishek Haldar to get spine surgery.
Before & After Gallery
Tibia Interlocking
Tibia Plating
Fracture Shoulder
After Shoulder Replacement
Galeazzi Fracture Of Radius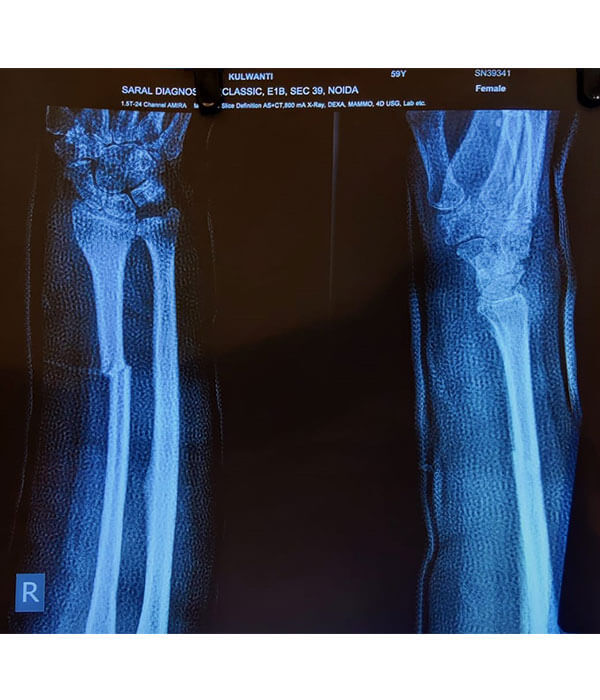 After Closed Reduction
Dislocation Of Distal Interphalangeal Joint
Post Reduction And Stabilisation
Osteoarthritis
Post Knee Replacement
Dr. Abhishek Haldar
MS, FVRS | Trauma, Arthroscopy & Joint Replacement Surgeon
Visiting Consultant -Apollo Hospital, Noida.
Dr. Abhishek Haldar is a consultant Orthopaedic, Trauma, Arthroscopy, Joint Replacement and Vein Surgeon. After  graduating in year 2004 he went on to pursue Master's degree in field of Orthopaedics. During the course of his residency he underwent advanced surgical training in traumatology and operated numerous cases of internal and external fracture fixation. He offers both surgical and non surgical treatment for fractures.
Qualification: Dr. Abhishek Haldar is a Consultant Orthopedic, Trauma and Vein Surgeon. After graduating in year 2004 he went on to pusue his Master's degree in field of Orthopaedics.
Book your appointment at OrthoVision Clinic
Please fill up the form below to schedule an appointment,
our representative will revert back to you shortly to confirm.