Hand Surgery
Surgery is performed on the hand to re-establish its capacity and to reduce pain, deformity  in the hand and fingers. Hand surgery can likewise be performed to fix the ligaments/tendons and nerves to re-establish the scope of movement in the hand.
The strategy for hand surgery will rely upon the reason for the injury. According to the best orthopaedic surgeons, there are a few practices that help in treating hand injuries.
What are the different kinds of Hand Surgeries?
Carpal Tunnel Surgery
Perhaps the most well-known hand surgery is performed to address the carpal tunnel syndrome. Carpal tunnel syndrome happens when median nerve gets compressed.this leads to numbness, thumb weakness, tingling sensation.
The reason behind the use of carpal tunnel surgery by the best orthopaedicians is to ease the pain by releasing the compression of the median nerve in the carpal tunnel.
Trigger Finger Surgery
A trigger finger happens when the flexor tendon can't slide easily when the finger twists and expands. The tendons keep the fingers from fixing.
To address this problem, the surgery broadens and grows the tendon sheath with the use of a small cut in the palm. Your thumb and fingers will recover movement rapidly after activity..
Nerve Repairs
The vast majority don't know that hand wounds can damage the nerves around the hand – individuals don't normally consider the nerves, they consider the muscles and bones. However, when a nerve has been damaged, you will most likely be unable to feel your hand. or then again far more terrible, the hand might lose its general capacity. Hence the nerve reconstruction must be done as soon as possible to restore its normal function.
Which is the best place to get Hand surgeries?
In case of hand injuries do consult Dr. Abhishek Haldar at OrthoVision Clinic, Noida as he has expertise in this field.
Before & After Gallery
Tibia Interlocking
Tibia Plating
Fracture Shoulder
After Shoulder Replacement
Galeazzi Fracture Of Radius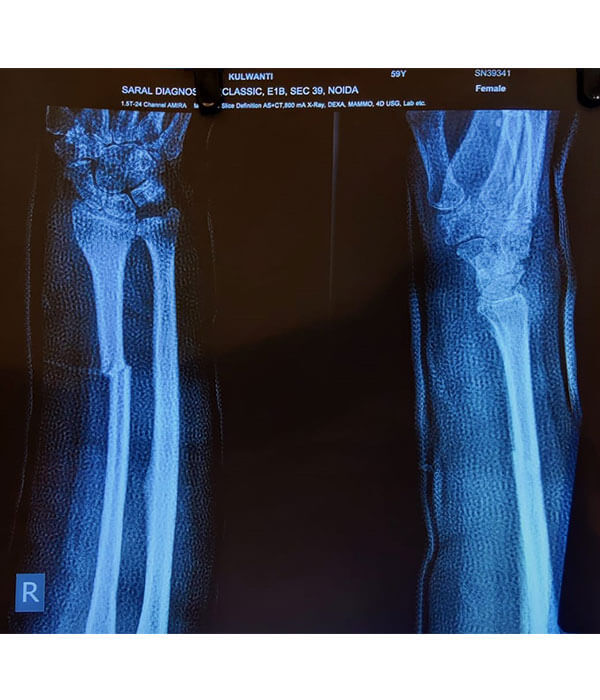 After Closed Reduction
Dislocation Of Distal Interphalangeal Joint
Post Reduction And Stabilisation
Osteoarthritis
Post Knee Replacement
Dr. Abhishek Haldar
MS, FVRS | Trauma, Arthroscopy & Joint Replacement Surgeon
Visiting Consultant -Apollo Hospital, Noida.
Dr. Abhishek Haldar is a consultant Orthopaedic, Trauma, Arthroscopy, Joint Replacement and Vein Surgeon. After  graduating in year 2004 he went on to pursue Master's degree in field of Orthopaedics. During the course of his residency he underwent advanced surgical training in traumatology and operated numerous cases of internal and external fracture fixation. He offers both surgical and non surgical treatment for fractures.
Qualification: Dr. Abhishek Haldar is a Consultant Orthopedic, Trauma and Vein Surgeon. After graduating in year 2004 he went on to pusue his Master's degree in field of Orthopaedics.
Book your appointment at OrthoVision Clinic
Please fill up the form below to schedule an appointment,
our representative will revert back to you shortly to confirm.