What is orthopaedic trauma?
Trauma  affecting any part of the Musculo-skeletal system following  fall or accident leading to bodily deformties.It can range from mild form of wounds to severe life threatening pelvic fractures.
What are the causes of Orthopaedic Trauma?
Most frequently, orthopaedic trauma is brought about by:
Road traffic accident
Physical violence
Sports injuries
What are the factors that increase the risk of Orthopaedic Injury?
Osteoporotic individuals have a tendency to develop broken bones more easily than younger healthy individuals. Bone density decreases with age due to several factors. Hence its necessary to address Osteoporosis timely.
When to See an Orthopaedic Trauma Specialist?
Now and again, orthopaedic trauma is promptly self-evident. Life-threatening physical injuries, require a quick trip to the trauma centre where an orthopaedic surgeon will attend you immediately.
Any kind of trauma with localised pain and swelling not responding to first aid treatment should seek prompt orthopaedic treatment as there could be underlying fracture or dislocation.
Which is the best place to get treatment for Orthopaedic trauma?
For any kind of trauma, do consult us at OrthoVision Clinic, Noida for expert opinion.
Before & After Gallery
Tibia Interlocking
Tibia Plating
Fracture Shoulder
After Shoulder Replacement
Galeazzi Fracture Of Radius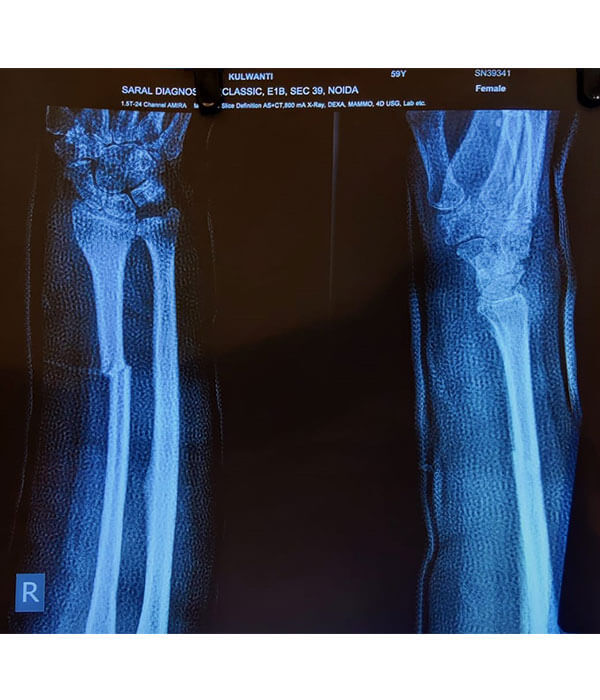 After Closed Reduction
Dislocation Of Distal Interphalangeal Joint
Post Reduction And Stabilisation
Osteoarthritis
Post Knee Replacement
Dr. Abhishek Haldar
MS, FVRS | Trauma, Arthroscopy & Joint Replacement Surgeon
Visiting Consultant -Apollo Hospital, Noida.
Dr. Abhishek Haldar is a consultant Orthopaedic, Trauma, Arthroscopy, Joint Replacement and Vein Surgeon. After  graduating in year 2004 he went on to pursue Master's degree in field of Orthopaedics. During the course of his residency he underwent advanced surgical training in traumatology and operated numerous cases of internal and external fracture fixation. He offers both surgical and non surgical treatment for fractures.
Qualification: Dr. Abhishek Haldar is a Consultant Orthopedic, Trauma and Vein Surgeon. After graduating in year 2004 he went on to pusue his Master's degree in field of Orthopaedics.
Book your appointment at OrthoVision Clinic
Please fill up the form below to schedule an appointment,
our representative will revert back to you shortly to confirm.